The Fish Owl God is perched up on top of a tall tree, always protecting the village; but the young orcas ridicule and insult him. The Fish Owl God's anger grows and he punishes them by causing a furious storm…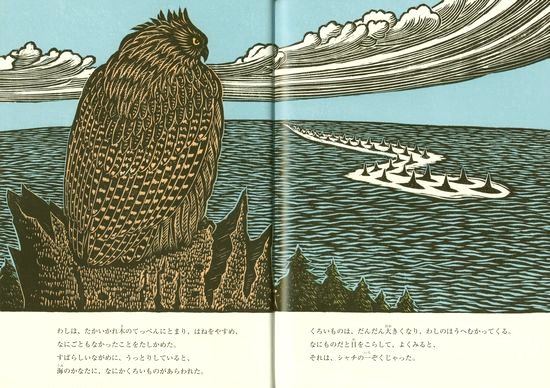 The importance of telling an Ainu story!
Kamui Chikap is a phrase in the Ainu language, meaning "bird god." The Fish Owl God looks after the village.

Tororinpo…, tororinpo…, cries the fish owl. Mr. Tejima's artwork is so powerful and amazing that you can almost feel the dignity of the fish owl through his illustrations. One day, a pod of orcas appears in the sea, and the young orcas do not listen to their leader's instructions; they make fun of the bird god, calling him awkward and splashing him with water. The eyes of the angry Fish Owl God almost look scary! (Mr. Tejima's artwork is just fantastic!)

The pod of orcas is swallowed in the huge waves of his anger, which cut into their flesh and break their bones, making them disappear altogether. This was their fate for not following the rules that should be observed toward a god but…
This story of an Ainu god tells the importance of the law of nature!

As the years pass, the fish owl sees another pod of orcas appear in the sea but this time they follow all the rules. So the fish owl then tells how he decided from the bottom of his heart to protect the pod of orcas forever.

It's such a shame that Ainu culture expert Yae Shitaku has already passed away, as it would have been really moving to hear this story from her!

The postscript by Takeshi Umehara leaves a great impression on Japanese culture as it explains that the Ainu people are very similar to the people in the northeast. Ainu culture is the starting point of Japanese culture and, as such, it helped point human culture in very important directions.

Even now, people are entering an era when it is important to think seriously about the deep meanings given to us by nature, namely animals and plants (thinking also of the Great Tohoku Earthquake…).

As I felt the weight of these words, I really managed to appreciate the message that this picture book was trying to convey.