The little Jeecho are tiny creatures who diligently go around various places planting wild flower seeds, without being noticed by people. In the gaps on the roads, at the base of telephone poles... These beautiful little flowers could be considered as weeds by most people, but within this picture book they will inspire in you a great feeling of love.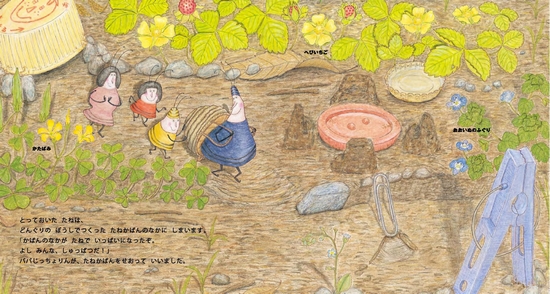 Without realizing, I felt very drawn to this very unusual word (name?) "Jeecho".

The Jeecho are little creatures who live of flower petals, leaves, pollen and nectar. And the only things that they do not eat are seeds.

I imagined the Jeecho gathering seeds and planting them around in various places, and I suddenly had a very warm feeling in my heart. Sometimes we see unusual places where little plants are growing, making you wonder "why there!?", and reading this book I realized that it must have been the work of the "Jeecho". I am sure that other people will come to this lovely realization as well :).
If we have never seen the Jeecho doing this, it must be because they are so good at hiding.

The Jeecho plant daisies and sorrel seeds, which are plants generally considered as weeds and could never become the main flowers in an arrangement. But the Jeecho help these little flowers grow in places that most people would walk by and ignore, instigating a warm feeling in our hearts.
I actually really love those little weeds that I see by the side of the road, but I am really, really grateful to this picture book for helping me think about them in this way.
I particularly like the fact that the book specifies the names of the plants featured in the story.

This is a beautiful book that can stir our power of imagination, making us wonder whether the little Jeecho really exist in our lives.